At the core of our business is a desire to excel in helping you achieve success. In a global economy, it is important that your accountants and advisors interact with you locally, but when needed can function globally. The following affiliations allow us to remain a local firm, sharpen our expertise, and provide a global perspective:

Hayflich is a member of the AICPA Employee Benefit Plan Audit Quality Center. The Center is a voluntary membership organization for firms that perform or are interested in performing ERISA employee benefit plan audits. The Center was established to promote the quality of employee benefit plan audits.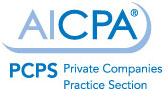 Hayflich is a member of the Private Companies Practice Section of the Division of CPA Firms, an organization that upholds exceptionally high standards for membership and ongoing review requirements. Every three years we undergo a peer review following guidelines issued by the American Institute of Certified Public Accountants Review Team, which study and evaluate our firm's policies and procedures for maintaining quality in accounting and auditing work. We are proud to be one of the firms in this area to have undergone this review since program inception and to have received an unqualified opinion for each review-the highest level possible.